THE WAY TO HAPPINESS FOUNDATION CLEARWATER
The Way to Happiness Foundation of Clearwater provides a nonreligious common sense moral code to foster brotherhood between all residents of Pinellas County.
The center leverages the power of this nonreligious common sense guidebook for people of all faiths and nationalities to help reverse alarming trends that plague communities the world over.
Evidence of the alarming erosion of morality in the Tampa Bay Area emerged when a recent survey found 50 percent of students in Pinellas County had been verbally bullied and 30 percent had been physically bullied. Additionally, the county ranks fourth in domestic violence with some 2,000 incidents last year alone.
The Way to Happiness Foundation Clearwater facilities include volunteer offices, informational displays to introduce visitors to every element of the campaign, and a seminar room where groups and concerned individuals can train to deliver the curriculum.
The Way to Happiness campaign includes a series of public service announcements—one for each of the booklet's 21 common sense precepts. The book has also been brought vibrantly to life in an unabridged book on film. The Way to Happiness Educator's Resource Kit contains the materials needed to implement the program and fully engage students. All are available through the Foundation's headquarters on Fort Harrison Avenue.
The Way to Happiness has helped to bring calm to communities torn by violence, peace to areas ravaged by civil strife and self-respect to millions of individuals—in schools, prisons and churches as well as youth and community centers. The power of the booklet has been demonstrated time and time again in the miraculous results witnessed wherever the book is distributed, demonstrating the sheer genius of L. Ron Hubbard's moral compass for life that has benefited more than 100 million people over the past 30 years.
When the National Police of Colombia adopted The Way to Happiness and undertook nationwide distribution, reaching 20 percent of the population, the nation's crime rates plummeted.
In Los Angeles communities beset by violence, rival motorcycle gangs distributing The Way to Happiness achieved crime drops of between 15 and 30 percent after every "Peace Ride."
Police in an eastern Slovakian community attributed a 40 percent reduction in the crime rate to widespread distribution of The Way to Happiness.
The Way to Happiness is available in 112 languages, with some 115 million copies distributed in 186 nations. The campaign to distribute the book has been embraced by more than 257,000 groups and individuals. It holds the Guinness World Record as the single most-translated nonreligious book and fills the moral vacuum in an increasingly materialistic society.
---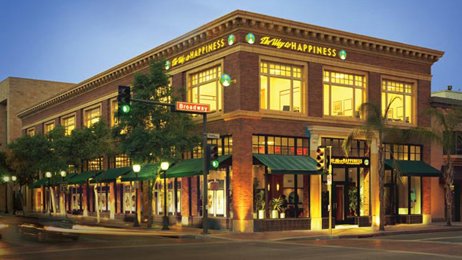 Find out more about the The Way to Happiness: A Common Sense Guide to Better Living.
---
Map & Directions
Location:
33 N Fort Harrison Ave
Clearwater, Florida 33755