CLEARWATER, FLORIDA
•
March 1, 2018
Church of Scientology Hosts Monthly Tours of HISTORIC Fort Harrison 
The Fort Harrison provides monthly tours to those wishing to learn more about this vibrant part of Clearwater's historic landscape. 
More than a dozen local residents, interested in learning more about Clearwater's history and visiting one of its iconic landmarks, took part in the Church of Scientology Flag Service Organization February tour of the Fort Harrison, the Church's international religious retreat. 
The monthly tour begins in the stately Fort Harrison lobby.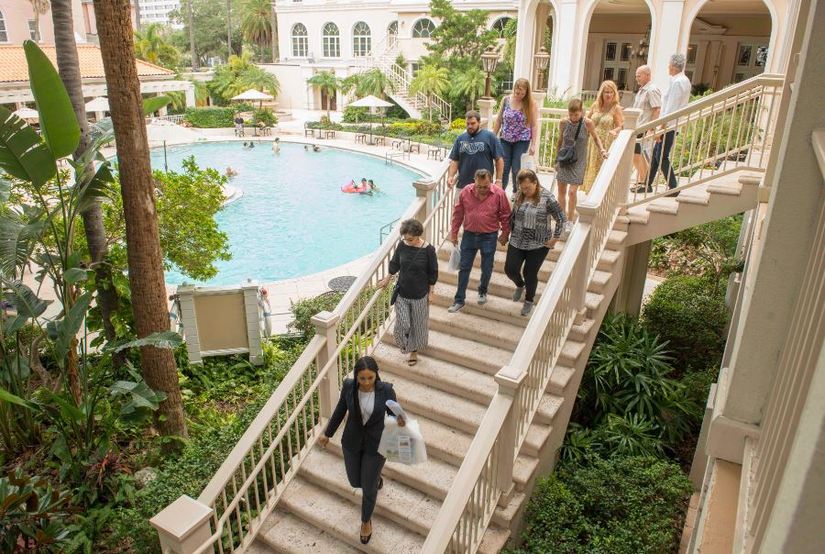 The hotel was constructed in 1926 by Clearwater real estate developer Ed Haley and soon became a favorite of those visiting the city, including the Philadelphia Phillies, who lived in the hotel during spring training, and the Rolling Stones, who are rumored to have written 'Satisfaction' there on their first U.S. tour.

A highlight of the tour is the tenth floor Crystal Ballroom. Included in the original 1926 plans at the urging of the original architect, the ballroom provides guests with an expansive view of the bay. The Fort Harrison rooftop restaurant was open to locals and hotel guests during the 20's and 30's for nightly dinner dances with performances by the Fort Harrison Band. Today, the ballroom is home to a host of charitable events, including monthly Swing Dances for Charity and the Tampa Bay Charity Coalition bimonthly luncheons.

In 1975, the Church of Scientology purchased the Fort Harrison as part of its Clearwater-based international spiritual headquarters. Every year, thousands of Scientologists from all over the world visit Clearwater for advanced religious services. The Church also hosts hundreds of community and nonprofit events at the Fort Harrison.

The next tour is scheduled for March 17 at 1:30 p.m. To attend, or for more information about community events held at the Fort Harrison, contact Amber Skjelset, Scientology Information Center Manager, at (727) 467-6966 or email amber@cos.flag.org.