CLEARWATER, FLORIDA
•
January 8, 2018
Visitor No. 27,000 Tours the Scientology Information Center

Opened in 2015 to answer the question, "What is Scientology?" in the religion's spiritual headquarters, the Scientology Information Center has become a popular spot for those visiting Clearwater, Florida.
On December 31st, a family of four from New York City vacationing in Clearwater stopped by the Scientology Information Center and became the 27,000th visitors to the Center.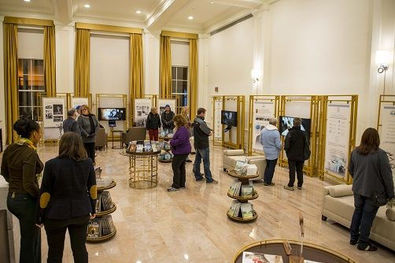 "We saw the sign, 'Church of Scientology Information Center – All are welcome' and decided to come in and look around," said Chuck, the father of the family. "We heard about the Church of Scientology's spiritual headquarters in Clearwater, and since we know nothing about Scientology, we wanted to look around." During the visit, their questions about Scientology beliefs were answered and they received a photo brochure of the Church of Scientology of New York as a keepsake.

"There is an amazing diversity of people who come through these doors every day, curious about Scientology," said Amber Skjelset, Manager of the Scientology Information Center. "Michael, a lifelong Clearwater resident,  visited the Information Center for the first time in 2016. Now he frequently comes by to say hello, learn more and have a cup of coffee."

"It's always nice to have someone to talk to and answer questions about Scientology," says Michael. 

Since its opening in July 2015, the Scientology Information Center has hosted visitors from across the U.S. and from 25 countries as far away as Argentina and Vietnam. 

The community center has hosted more than 100 events, highlighting special days such as Earth Day, International Day of Happiness, Mother's Day and Father's Day.
"The Center houses a gallery of information panels and four audiovisual displays containing some 400 videos. These displays allow anyone to learn about Dianetics, Scientology and its Founder, Mr. L. Ron Hubbard, for themselves," says Skjelset.

For more information about the Scientology Information Center and its frequent events, please call the manager at (727) 467-6966 or e-mail amber@cos.flag.org.
---
The Scientology Information Center is located in the Historic Clearwater Building. It is open to all and provides a self-guided tour showing basic Scientology beliefs, Churches around the world, ongoing social programs and the life of Mr. Hubbard.