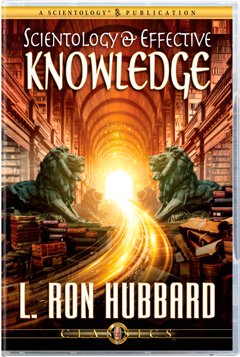 SCIENTOLOGY AND EFFECTIVE KNOWLEDGE
With the first-ever technology of observation and, specifically, of confronting, here is L. Ron Hubbard's watershed lecture revealing the crucial importance of training drills (TRs). Here, too, is the breakthrough that stands as the paramount role of a coach, summed up in two words: Do it! Moreover, in this preeminent statement on what confronting means for Man, Mr. Hubbard reveals the one continuing stress in Scientology and, with that, the route to a total know. Read More
MORE ABOUT SCIENTOLOGY AND EFFECTIVE KNOWLEDGE
The simplicity of observation, the simplicity of communication itself and only itself, is functional and will take Man from the bottom to the top. And the only thing I am trying to teach you is look. —L. Ron Hubbard
For 2,500 years, Man has been wandering through a complex labyrinth. From elaborate myths about his origins to unworkable psychotherapies, his efforts to find a road out uniformly failed. Instead, unwilling simply to look at Man and discover what he is, such systems as he did evolve announced their defeat by claiming that raising an individual to a higher state was impossible. In consequence, not one technology emerged to bring lasting freedom to a single human being.
Against that long background of pretended knowledge, the effective knowledge contained in Scientology stands in a universe of its own, representing something distinct, unique and a first on this planet. For not only does Scientology enable the individual to achieve total knowingness on himself and life, but what makes that knowingness possible is the first-ever technology of observation and, specifically, of confronting.
Here, then, is L. Ron Hubbard's watershed lecture revealing the crucial importance of Training Drills (TRs). Here, too, is the breakthrough that stands as the paramount role of a coach, summed up in two words: Do it!
Moreover, in this preeminent statement on what confronting means for Man, Mr. Hubbard reveals the one continuing stress in Scientology and, with that, the route to a total know.