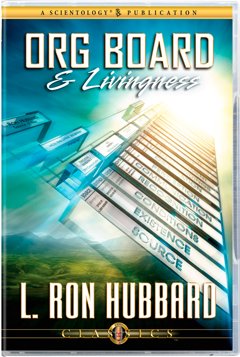 ORG BOARD AND LIVINGNESS
Transcending anything Man has previously understood on organization, the Org Board embraces the whole of life, delineating purpose, the alignment of purpose for each of its members, a built-in system of self correction to prevent counter-purposes—and all of it paralleling The Bridge with each successive department representing an awareness level directly corresponding to those an individual ascends on the Grade Chart. Here, then, is L. Ron Hubbard's legendary lecture revealing the pattern by which to organize life itself. Read More
MORE ABOUT ORG BOARD AND LIVINGNESS
Livingness is going along a certain course, impelled by a purpose and with some place to arrive.
It consists mostly of removing the barriers in the channel, holding the edges firm, ignoring the distractions and reinforcing and reimpelling one's progress along the channel. That's life and that's this org board. —L. Ron Hubbard
The year was 1965, the location Saint Hill. And with the Saint Hill Special Briefing Course in full swing, Mr. Hubbard's researches had brought technology to a whole new plateau. More specifically, he had discovered the very core of the Reactive Mind and mapped its entire anatomy. Here was the long-sought breakthrough to achieve certain Clearing, resulting in both the Clearing Course and the first-ever Grade Chart delineating the exact steps upwards to its accomplishment for every being.
Moreover, and notwithstanding the magnitude of these achievements and what they meant to every individual being, these same discoveries had also revealed the answer to expansion and the accomplishment of planetary clearing. For what L. Ron Hubbard had discovered in the core of the Reactive Mind were purposes and cross-purposes, booby-trapped so as to aberrate an individual. Then, again, as a group or society is no more than an aggregate of its individuals, here too was the answer to aberrated groups and, more specifically, organizations. So broad reaching were these discoveries that what Mr. Hubbard next unveiled was no less than a Grade Chart for the Third Dynamic—the Scientology Organizing Board.
Transcending anything Man has previously understood on the subject of organization, the Org Board embraces the whole of life itself, delineating purpose, the alignment of purpose for each of its members, a built-in system of self-correction to prevent counter-purposes—and all of it paralleling the Bridge with each successive department representing an awareness level directly corresponding to those an individual ascends on the Grade Chart.
Here, then, is L. Ron Hubbard's legendary lecture revealing the pattern by which to organize life itself.