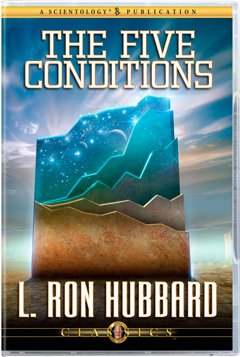 THE FIVE CONDITIONS
In isolating the conditions, L. Ron Hubbard discovered the means to eliminate "fate" from the destinies of Man forever. The route to that accomplishment lies through the condition formulas: Emergency, Normal, Affluence, Power Change and Power. In this watershed lecture, he reveals not only why the conditions and their formulas are the very woof and warp of this universe, but the very stuff of survival. For the correct formula will inevitably lead to expansion and, ultimately, to the Condition of Power. And that is survival. Read More
MORE ABOUT THE FIVE CONDITIONS
You cannot have a condition in this universe where there is no increase and no decrease. That's a totally stable condition. There is no such thing in this universe from one end of it to the other. There isn't anything that always remains the same. —L. Ron Hubbard
Utterly inexorable in their application to both MEST and life, their unknown and therefore invisible influence has long been attributed to the workings of fate. Indeed, individuals have failed, organizations collapsed, empires dwindled and civilizations vanished—all for want of the knowledge in L. Ron Hubbard's landmark lecture revealing the discovery of the conditions and their formulas.
Emerging from the same track of research that yielded the Grade Chart and the route to Clear, the conditions are the natural laws that govern the existence of everything from atoms to galaxies and from algae to Man. But whereas MEST is the effect of these laws, life has the ability to turn them to its advantage. For in isolating and identifying the conditions, Mr. Hubbard discovered the means to eliminate "fate" from the destinies of Man forever. The route to that accomplishment lies through full application of the Condition Formulas, each addressing a specific condition: Emergency, Normal, Affluence, Power Change and Power.
In this watershed lecture, Mr. Hubbard details the ingredients of these previously unknown conditions as well as the precise application of their formulas. And, as he reveals, they not only are the very woof and warp of this universe, but the very stuff of survival itself. For while the wrong formula will inevitably lead to contraction of the individual or group, the correct formula will just as inevitably lead to expansion and, ultimately, to the Condition of Power. And that is survival.